Project - Mud kitchens for sale
Mud kitchens are proving to be very popular for schools and play centres.
Mens Shed Auckland East now offer these at $399 each including GST and delivery in the East Auckland area.
They are made from tanalised fencing timber and include a water pump. All fastenings are galvanised. Suitable for outdoor use but we suggest overnight storage under lock and key to avoid abuse. Supply your own bucket.
To order your mud kitchen email [email protected] or call into our shed on any open day.
A common resource in many of our schools and child care centres is a mud kitchen.
Here the children can get their hands dirty and enjoy swirling the mud into something or nothing. A great tactile experience.
The kids love it from the day it's delivered.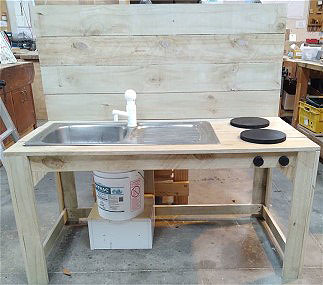 Opening hours
Tuesday: 9am – 3pm
Wednesday: 9am - 12:30pm
Thursday: 9am – 12.30pm
Friday: 9am – 12.30pm
Saturday: 9am – 12.30pm

Contact us
Email: [email protected]
Landline: 09 880 9800 - Mobile: 021 082 90970 (Terry)
Address: Waiatarua Reserve, 98 Abbotts Way, Remuera, Auckland 1072, New Zealand