Our history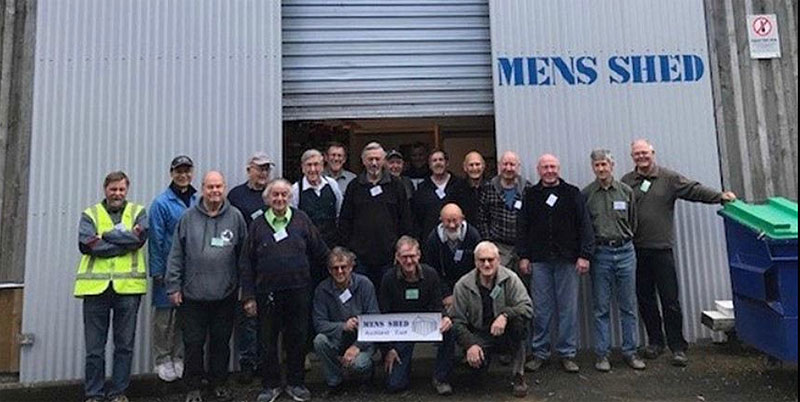 Auckland East is a relatively young shed; it was formed in 2015
and after a long search moved into its current premises in May 2018. The challenge then was to transform the building – which was previously a store and workshop for a landscaping company – into a great space for men to come together.
The men put their heads together and with careful planning and a bundle of enthusiasm over the next few months they completed part one of the makeover. They drew on experience from their past professional lives for the design (Alan) and electrical (Mal) aspects.
A core team of four then handled the hands-on aspects. They came from a range of backgrounds with only minimal formal training in the trades; Waynne was a shoe salesman, Peter was a manager in the motor industry and then had his own kitchen business, Hank was an ex wharfie and Phil served his time in HVAC before a long career with Air NZ.
In the 20 months from October 2018 to June 2020 the team completed an impressive 41 tasks with a further four "work-in-progress"; not bad for a bunch of amateurs working just three mornings a week!
Like a lot of men Waynne, Peter, Hank and Phil prefer to be doing stuff rather than talking about it and the shed has certainly met that need. Along the way not only have they contributed hugely to the shed (which has in turn contributed greatly to the community via many and varied community projects) but they have made a bunch of new friends, worked co-operatively to learn from each other as well as learning a bit about men's health. And they stayed connected during lockdown via Zoom meetings three times a week.
Stages two and three of the makeover will keep them busy for the next twenty months!
Men's Sheds provide value; to their members through increased activity, awareness and camaraderie – all of which are critical to men's health – and to the wider community such as kindergartens and schools, libraries and conservation groups through the products and services provided.

Watch a brief history of our shed on you tube. Click Here

Quotes from the team about why they are members:
Alan Minson
"In 2017 when I was nearing retirement, there was a public meeting about the formation of a local Mens Shed. Despite there being no actual Shed at the time, the concept appealed as an opportunity to mix with like-minded people and use my project management background to contribute to the establishment of the organisation and its facilities. The Shed's popularity, members' camaraderie and teamwork have certainly proven totally rewarding. I look forward to contributing to MSAE's continued growth and success."

Mal McLennan
"Following retirement, travelling around New Zealand and Australia in our motorhome was enjoyable and fulfilling. When that came to an end, I was faced with an unexpected challenge of what to do next. The opportunity to become involved in the establishment of a Mens Shed was totally unplanned and has been a delightful experience not only filling spare time but meeting fellow members who have become friends. In addition to time spent at the Shed, several enjoyable fishing trips and social events such as partners nights have taken place."

Phil O'Flaherty
"The pending question for seniors who are about to retire is they ask of themselves, "what am I going to do". "It doesn't matter how financially secure you may be, it is the expectation of waking up each day with a purpose to your life ahead. A focus that will fill the days productively. The "men's shed" fulfils my expectations admirably with work at hand, fellowship and friendship. It engages me with planning and executing tasks that occupy my time to reach a sense of achievement with immense pleasure. A very healthy recipe for me personally, mentally and physically."

Waynne Grainger
"After I retired, I worked on building sites with my stepson who owns a building company. This I did until 2018 when in March I had major surgery. After 3 months recuperation we had a month in Italy with my stepdaughter and family. My stepdaughter had discovered the men's shed online and thought it could be good for me as I was needing something to occupy myself. At the end of August 2018 I joined the men's shed and this has given me a reason to get up and get going. The friendship and camaraderie is now something I enjoy regularly."

Peter Merrie
"Six months after retiring and having completed many of my catch-up jobs at home, I discovered The Men's Shed. Straight away I was drafted into the 'building' team where I work with a great bunch of guys and contributed to the transformation of the building and facilities. Each of us is skilled in different ways and by working together we are able to complete the many projects to a high standard. I have found the Shed to be a friendly place where I can meet others from different backgrounds and learn about their life experiences."

| | |
| --- | --- |
| | |
| Alan, Mal, Phil, Waynne and Peter | Lining of meeting room with insulation and wall board |
More Men at work
Opening hours
Wednesday: 9am - 12:30pm
Thursday: 9am – 12.30pm
Friday: 9am – 12.30pm
Saturday: 9am – 12.30pm
Contact us
Email: [email protected]
Landline: 09 880 9800 - Mobile: 021 082 90970 (Terry)
Address: Waiatarua Reserve, 98 Abbotts Way, Remuera, Auckland 1072, New Zealand