Our history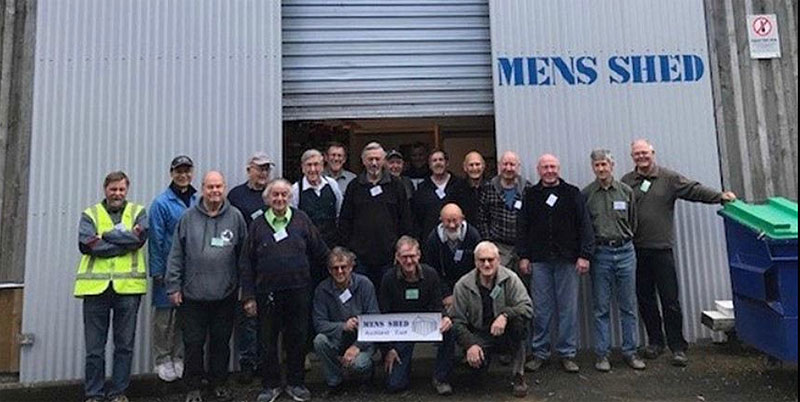 The Auckland East Mens Shed is a relatively young Shed, conceived in 2015.
The concept of "Mens Sheds" was established some 30 years ago in Australia. There are now thousands of Sheds established throughout the western world, including Ireland, England, USA and Europe.
Our shed was set up as a not-for-profit Incorporated Society.
Its purpose is to enhance the mental wellbeing and skills of its mainly retired male members through camaraderie and its involvement in local community projects. It provides a facility for men to congregate and work together in their local community, once the pressures of earning a living have passed.
While the founding group formed in 2015, a public meeting held shortly after, in 2016, resulted in a larger group adopting the concept. The group immediately took on the search for suitable premises.
After along search and many coffee sessions, we were successful in leasing our main building in the Waiātārua Reserve in 2018.
The distinctive arch-shaped building was built in the early 1980s and in 2017 was being used by a landscaping company for the storage and maintenance of machinery. It was in poor condition and presented a significant challenge to members.
A Building Improvement Programme (BIP) was established in 2018. A core team of 4 or 5 multi-skilled members devoted themselves for 4 years to making a "silk purse out of a sow's ear". By mid-2023 the BIP will be completed.
The building has been rewired, insulated, and lined.
The northern end of the main building was converted to a meeting room with new ablutions and kitchenette. A new mezzanine floor for craft work was added in 2021.
Workshops have been established for working in timber, metal, technology, environmental products, and handcrafts.
Initially all the workshop equipment had been donated and was of second-hand DIY quality. But by 2022, most of the equipment had been replaced with new "professional grade" equipment, with dedicated dust extraction systems, to enhance the environment.
In 2020 the lease was extended to include an adjoining "Barn" building which had been used for machine storage. This building was also rewired and insulated. This is now used primarily as a workshop to produce environmental products.
The popularity and growth of the East Auckland Mens Shed continued despite the recent Covid-19 lockdowns.
In March2023 our membership passed 200 and the Shed is now regarded as one of the country's most successful Mens Sheds.
We are open to members 5 days per week.
The Õrākei Local Board has been a key supporter from the outset and was particularly helpful with obtaining the lease of the premises on the edge of the Waiātārua Reserve.
The Shed has a continuous programme of community projects. It is specifically known from the Waitakere's to the Coromandel for its excellent quality environmental products in particular, rat and mustelid traps, and has worked closely with Eastern Bays Songbird since 2017. As at March 2023 over 9000 traps had been made and distributed.
We have also worked closely with local schools and community groups, repairing toys and equipment and participating in local events.
Because of the demand created by membership growth, expansion will be necessary. We are hopeful the future will see a third building preferably on a site adjacent to the other two, in the Waiātārua Reserve.
Our success supports the case for other Mens Sheds to be established in the wider Auckland area. The New Zealand National Mens Shed Association along with other sheds in the region offer others all the help and advice necessary to navigate the establishment of future sheds. Interested parties should not hesitate to contact us or the National organisation for any assistance, to establish more Sheds to improve the health and wellbeing of all New Zealanders.
Watch a brief history of our shed on you tube. Click Here

Quotes from the team about why they are members:
Alan Minson
"In 2017 when I was nearing retirement, there was a public meeting about the formation of a local Mens Shed. Despite there being no actual Shed at the time, the concept appealed as an opportunity to mix with like-minded people and use my project management background to contribute to the establishment of the organisation and its facilities. The Shed's popularity, members' camaraderie and teamwork have certainly proven totally rewarding. I look forward to contributing to MSAE's continued growth and success."

Mal McLennan
"Following retirement, travelling around New Zealand and Australia in our motorhome was enjoyable and fulfilling. When that came to an end, I was faced with an unexpected challenge of what to do next. The opportunity to become involved in the establishment of a Mens Shed was totally unplanned and has been a delightful experience not only filling spare time but meeting fellow members who have become friends. In addition to time spent at the Shed, several enjoyable fishing trips and social events such as partners nights have taken place."

Phil O'Flaherty
"The pending question for seniors who are about to retire is they ask of themselves, "what am I going to do". "It doesn't matter how financially secure you may be, it is the expectation of waking up each day with a purpose to your life ahead. A focus that will fill the days productively. The "men's shed" fulfils my expectations admirably with work at hand, fellowship and friendship. It engages me with planning and executing tasks that occupy my time to reach a sense of achievement with immense pleasure. A very healthy recipe for me personally, mentally and physically."

Waynne Grainger
"After I retired, I worked on building sites with my stepson who owns a building company. This I did until 2018 when in March I had major surgery. After 3 months recuperation we had a month in Italy with my stepdaughter and family. My stepdaughter had discovered the men's shed online and thought it could be good for me as I was needing something to occupy myself. At the end of August 2018 I joined the men's shed and this has given me a reason to get up and get going. The friendship and camaraderie is now something I enjoy regularly."

Peter Merrie
"Six months after retiring and having completed many of my catch-up jobs at home, I discovered The Men's Shed. Straight away I was drafted into the 'building' team where I work with a great bunch of guys and contributed to the transformation of the building and facilities. Each of us is skilled in different ways and by working together we are able to complete the many projects to a high standard. I have found the Shed to be a friendly place where I can meet others from different backgrounds and learn about their life experiences."

| | |
| --- | --- |
| | |
| Alan, Mal, Phil, Waynne and Peter | Lining of meeting room with insulation and wall board |
More Men at work
Opening hours
Tuesday 9am - 3pm, Wednesday to Saturday 9am - 12 noon.
Contact us
Email: [email protected]
Landline: 09 880 9800
Address: Waiatarua Reserve, 98 Abbotts Way, Remuera, Auckland 1050, New Zealand